Irvington Elementary School

PTA Website
Irvington Elementary School is a small neighborhood school located in the heart of Northeast Portland's Historic Irvington District. We are a diverse, tightly-knit community of over 250 elementary school kids and families.  At least 9 languages are spoken at Irvington.  39 percent of us are students of color and 21 percent have disabilities.  Each of us is an essential part of the Irvington School family. 
And you can be too!
We are the Eagles,

We are the Eagles 
The Irvington Eagles, The Irvington Eagles
Talon taught us, Talon taught us 
How to SOAR, How to SOAR
Show Respect, Show Respect
On time on task, On Time on Task 
Act Safe, Act Safe
Reach your best, Reach Your Best 
That's how we SOAR, That's how we SOAR
SOARing High, SOARing High 
The SOARing Eagles, The SOARing Eagles
Irvington Eagles, Irvington Eagles
S – O – AR, S – O – AR, S – O – AR, The SOARing Eagles! 
S – O – AR, S – O – AR, S – O – AR, Irvington Eagles!
Announcements & Upcoming Events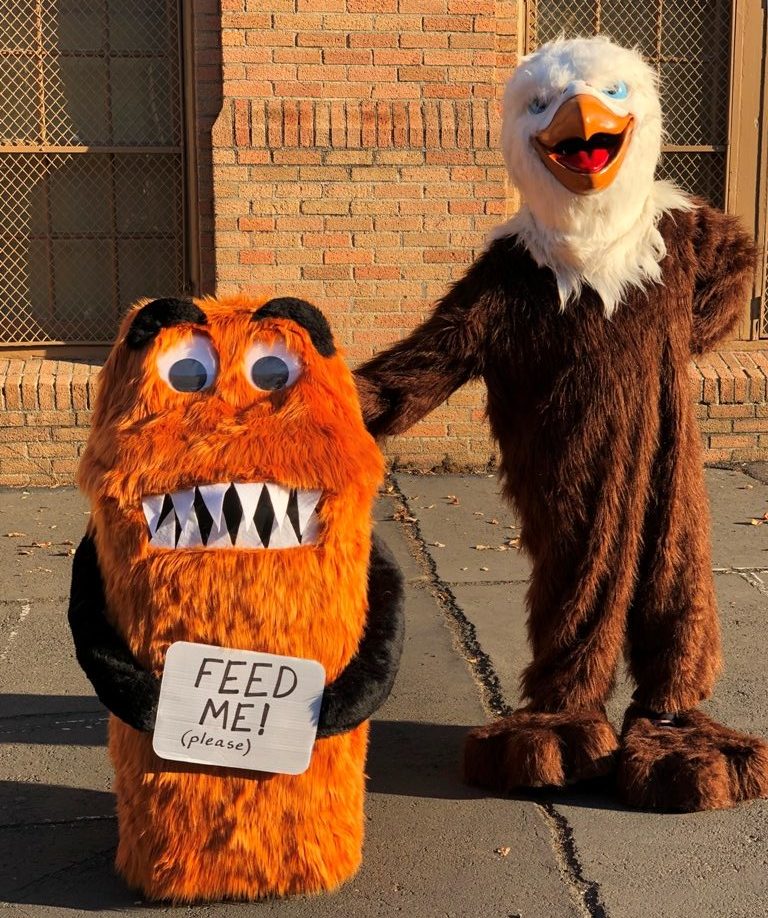 Have you met Hungry Harvey?
He is hungry, hungry, HUNGRY for unopened, individually wrapped candy to be used at the Fall Festival!
He'll be out at drop off every morning next week waiting for your student to feed him!
Don't miss the Fall Swap!

Exchange outgrown coats, boots, Halloween costumes, and trick-or-treat containers at Back to School Night and Fall Festival!
DROP OFF DAY
When: Back to School Night, Oct. 6, 6:00-7:30pm
Where: Green Team table in the front entry of Irvington
Items should be for ages 3-12 and in good condition.
PICK-OUT DAY
When: Fall Festival, Oct. 7th, 3:30-7:00pm
Where: Irvington playground
Pick out the winter and Halloween items your family needs.
Questions? Email greenteam@irvingtonschool.com

Friday, October 7th, 3:30-7pm
Get into the fall spirit with this fun community gathering!  
Join other Irvington families — past and present — the first Friday of October after school for carnival games, snacks, costumes, prizes, and more!  The whole family is welcome to attend and enjoy this free community event. 

 

It takes a village to make this one happen: volunteers are needed to set up, decorate, run the games, hand out prizes, clean up, and more — there's a role for everyone.  Shifts are short but numerous, so 

sign up now

help make this event possible and fun for all! 

 
Restaurant Night Fundraisers
Once or twice a month, Irvington School PTA teams up with a neighborhood restaurant to hold a fundraiser night. We encourage our school community to dine in or take out from the restaurant on that day, and the restaurant generously donates a portion of the proceeds back to our school — it's a win-win! Every time it's a little different, so stay tuned for details each time. So tell your neighbors and bring your friends, the bigger the turnout, the better for everyone!
Bon appetit!
Monday, October 17th, 3 – 10pm
Join us for an upcoming Restaurant Night by dining in or taking out Monday, October 17th from 3 – 10pm at our neighborhood Steeplejack Brewing Co! Located in a meticulously restored, early 1900s church, Steeplejack anchors the corner of Irvington, Grant and Sullivan's Gulch neighborhoods and offers a community gathering space for family and friends.
Also our host of last year's auction, Steeplejack is happy to continue to support our school and will be generously donating 10% of all food sales and 15% of all Steeplejack beer back to us. Check out their menu here.
Thank you Steeplejack!
Community Cares Clean Up Day
A HUGE thank you to all those who made it out for Community Care Day!
The amount of work put in was SO impressive. Weeds were weeded. Thistle was conquered! Mulch was shoveled, and raked, and shoveled, and raked. And some of us made some new friends.
You are amazing, and appreciated.
Welcome Principal Gregoricka!
We are very excited to welcome Mr. Gary Gregoricka as Irvington's next principal, starting July 1st.  Details here.
PTA is a great way to connect with other families, make a difference in our school and build our community resilience.  Our goal is to support students in learning and teachers in teaching.  For all of our students to be successful, we need YOU!
The fee for membership is $12.50 if you join online and membership is good for one school year.  If this is in any way a hardship for your family, please let us know.  No family will be prevented from joining because of funds.
Your donation to the Irvington PTA is tax deductible and directly supports students and staff by funding essential learning programs including:
Arts Enrichment

Field Trips

Garden and Grounds

Extracurricular Activities

Scholarships

Music

Technology

Cultural Events

Family Gym and Art Nights

Staff Appreciation

Advocacy

Library Support
              …and much more
Refilling your Starbucks card? Buy it with RaiseRight! Doing a Home Depot run? There's a card for that! Got a lucky ticket to the Columbia Employee Store? Buy a gift card as you wait in line to check out!
We are using RaiseRight, a national SCRIP program, which allows you to individually purchase gift cards from over 750 vendors and a percentage of the gift card is then donated by the vendor to our PTA. You can order e-cards (recommended – these can be used from a wallet on the app on your phone for immediate use), or have physical cards from select vendors sent to your home (for a small shipping fee). The cost of the card to you is the same (with a $0.15 transaction fee for a debit transaction), but a percentage (up to 18%!) of the amount of the card is donated to the PTA. Please do not select the option to have physical cards sent to the school or to the program manager (we will not be able to distribute your cards to you during summer and school breaks and the PTA incurs a $9 shipping fee for each order).
What you need to do:
(1) Create an account on the RaiseRight app or at raiseright.com using the Irvington Elementary PTA organization code: NRCDCZLE6ZUA.
(2) Start buying gift cards at face value to support our school.
Check it out!  If you have questions, contact Amy Dachtler at SCRIP@irvingtonschool.com.
Any time you are about to go shopping on  Amazon, please click on our Amazon referral link. Amazon gives us a small percentage for  the referral, but it adds up – last year we made  about $500 from people doing this! People  who use the Chrome browser can install a plugin that will automatically redirect all  amazon.com pages to smile.amazon.com.  
Here's how it works:  
1. Link your account to our charity ID by visiting smile.amazon.com and search for "Irvington  School."  
2. Instead of shopping at www.amazon.com,  shop at smile.amazon.com (the two sites are  identical).
Grab a Blue Bag!
Your cans and bottles eligible with refund value in Oregon can support our students!  Pick up a Blue Bag (2nd & 4th Fridays at morning drop-off on blacktop near the school building), fill it up and drop it off at a participating BottleDrop location (bottledropcenters.com/locations).  You can also donate money in your BottleDrop account–search "Irvington School PTA" at bottledropcenters.com/donate-nonprofits.  Thank you!
The Irvington Green Team works with
parents and students to raise environmental
awareness and implement sustainability projects at Irvington School. 
For questions about the Green Team, or to make Blue Bag arrangements, email greenteam@irvingtonschool.com
Every time you shop at Fred Meyer and use your  rewards card, Irvington PTA will automatically get  a contribution from Fred Meyer. You will still  receive all your earned Rewards Points, Fuel  Points, and Rebates!  
How to link your Fred Meyer rewards card to Irvington School PTA:  
1. Go to https://www.fredmeyer.com/account/communityrewards/
2. Search for Irvington School PTA as the non profit organization you wish to support. 
3. Click next to the Irvington School PTA, then  press Enroll. Thank you!
How to earn cash with the products you already buy to help our school get the supplies it needs:
1. Download the Box Tops app on your phone and follow instructions on how to set up an account and sign up to support our school.  Look for Irvington Elementary School, School ID# 417768.
2. Then, just shop as you normally would.
3. Use the app to snap a photo of your receipt within 14 days of purchase. It'll automatically identify any Box Tops participating products and you'll give back to our school with each product you buy. 
If you shop online, you can earn with your digital or email receipt, too. See how to submit those receipts at BTFE.com/digitalreceipts.
Questions? Email fundraising@irvingtonschool.com.
The online Irvington School directory is now available!   By joining the directory you'll be able to connect with other Irvington families and also receive important school and PTA updates, sign-ups, and more. 
To access the directory, you'll be asked to create a free AtoZ Connect account.  You can submit as much or as little information as you prefer, which will be exclusive to Irvington families.
Contact directory@irvingtonschool.com with any questions.
Like us and follow us around